Medium - A New Way To Read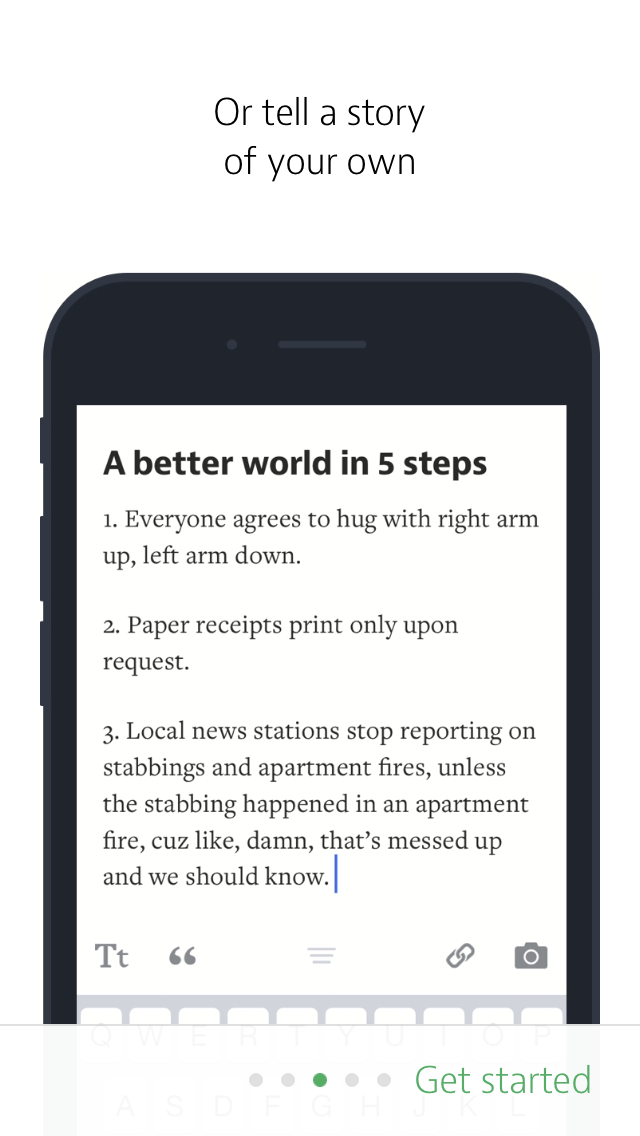 I like to read.
Yes, I have used Flipboard for a while, until I realize that I hate the flip animation with too much unnecessary animation and elements of Flipboard, I just want to read, and content is more important with me than those fancy flip effects.
And you know, many people out there want to write too, especially developers and designers as well. A simple search on Google with a keyword related to programming or UI/IX can lead you to a page, which people like to write for others. That's when I came to Medium.
I read on Medium several posts per day, but I don't want to stick with desktop browser and load a page for just reading, so I try with the iOS app of Medium. And that's it.
[
App begins with a simple but elegant login screen. I love that style!
[
I swipe through intro section, however, one minus point: when I tap on Get Started button, the swipe layout scroll through all pages to the end which make me annoy.
[
I want to use Facebook as my login, through a step, I can select some tags to follow. This screen is combination of predefined tags, with trending tags I guess, however, I pick some tags and begin.
[
Home screen appear with a big summary for each post, which more comfortable to me than short intro.
[
Top stories, just like another home, however I do not understand why they need to use number for posts?
[
I try with Search feature, it works like expected BUT tap region of search field and tabs below are not distinguishable.
[
Share sheet, I like the way they utilize iOS native sheet to provide action like Block Author…
[
Swipe to get back, this feature helps developers can remove toolbar/navigation bar, and more space for content, of course!
[
Publish screen, simple, and elegant as always, we have some options here like bold, quote, and alignment.
[
But with Stat screen, they stills uses a WebView which I don't like, hope they can update this feature soon.
[
Setting screens, allow you to toggle notifications, connect with Social network and more.